ClearView Home Services - Produits, offres, nouvelles
Articles
Top 5 Reasons To Get A Roof Cleaning
2020-07-23
Why You Need To Hire A Roof Cleaning Company in Maple Ridge, BC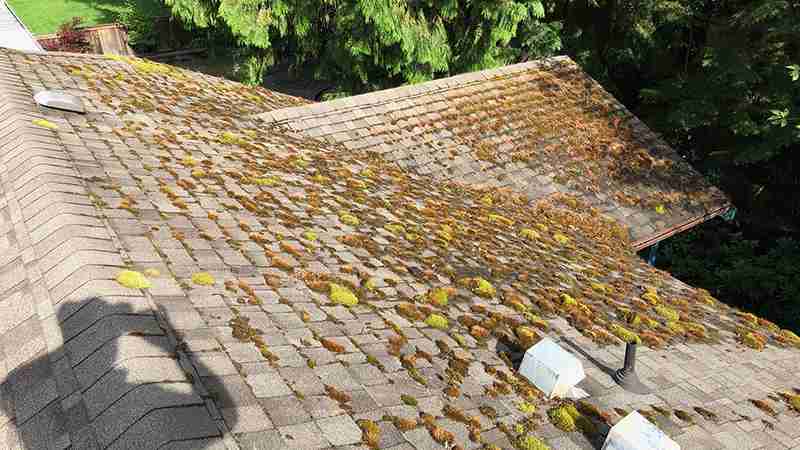 It's pretty clear to almost every homeowner in Maple Ridge, Port Coquitlam, Coquitlam, Port Moody, Pitt Meadows, Surrey, Burnaby and Langley (Our Service Area) that when the winter rain season hits, the sun goes away, and what comes next is a swath of mold, algae, lichen, and moss growing on our roofs.
You should come to accept that this is inevitable but still understand that having a roof that's been untreated for too long can bring a lot of problems. In addition to that, trying to achieve this task of cleaning your roof yourself can be an even more concerning issue. It's dangerous, slippery, and using a high-pressure washer to blast off the invaders will cause more damage than good.
This sounds like a sales pitch, but the facts are if you don't hire a professional that's adequately trained to clean or wash your roof then you are facing very expensive repairs in the near future.
So for the sake of your safety and the health of your home, here's a list of the top 5 reasons why you should hire a roof cleaning company to come and wash your roof for you.
1. Roof Cleaning Saves You Time
Hiring a roof washing company to come and clean your roof will save you more time than you might come to realize. Washing your roof properly is very time consuming on your own. If you don't use the proper equipment, you might find that this type of project might take you all summer instead of just a rare sunny Saturday getting a tan on the roof listening to your neighbors' White Snake album from their garage while they watch, beer in hand.
2. Algae and Moss Growth Heaven
Algae and moss love roofs! Especially in our moist environment. They thrive in crevices and cracks in your shingles and anywhere in the shade that they can find. Then add in the natural movement of dirt in the air and landing on your roof from the rain and wind and you got yourself a natural habitat for lichen, algae, moss, and mold.
3. Roof Cleaning Prevents Roof Damage
Regular roof washing and roof cleaning maintenance can prevent overgrowth and permanent damage to your roof. Your home is built in a way that every element of your home from your roof to the foundation all work together harmoniously to provide you with a safe, moist free home. If one of the elements, like your roof, starts to fail then expect to see other problems rising as well. Once the shingles or roof tiles start to crack, moisture will set in and set a snowball effect of ongoing issues down the road.
4. Washing Your Roof Increases Curb Appeal
Having your roof cleaned, especially if it's been a while, almost seems like you just got a new roof installed. It can completely transform your home and boost curb appeal. What can sometimes look like a possible renovation can actually turn into a wonderful roof cleaning experience! Sometimes the roof can look so bad that you fear it may be too late for a wash. You might have to start figuring out who to call for a new roof!
Don't worry. Often times, however, your roof can be brought back to like-new condition by using a low-pressure soft washing method. Obviously now you can show off to those beer-drinking hair metal neighbors, who made the wrong decision (aside from watching you) and got a new roof instead. Who's laughing now!
5. Roof Moss Removal Service Increases Energy Efficiency
It's true, your roof shingles have been engineered over the years with science, and technology at the forefront of it all. They are designed to ensure that the inside of your home is cool in the summer and warm in the winter. If your roof is covered in moss and you have done any moss removal in a while then your roof isn't going to be able to work efficiently.
If fact, most homeowners see a decrease in their energy bills because your roof is effectively dispersing the heat away from the roof.
So if you think your roof needs a professional roof cleaning then Contact ClearView Home Services today and get a free estimate.
While you're there, request a free roof cleaning demonstration.
ClearView Home Services
10550 248 St #34
Maple Ridge, BC
V2W 0H9
https://cvhomeservices.com/roof-cleaning
https://local.google.com/place?id=16888362697555938950&use=posts&lpsid=228261877981748113
https://www.google.com/maps/place/ClearView+Home+Services/@49.1940818,-122.5364168,17z/data=!3m1!4b1!4m5!3m4!1s0x0:0xea5f846521c78e86!8m2!3d49.1940818!4d-122.5342281
Great Pressure Washing Tips – The 6 Most Common Surfaces
2020-07-23
Pressure Washing Tips You Could Use Around Your Home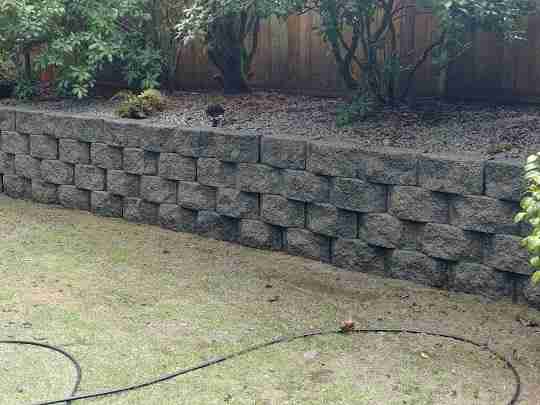 If you do a quick search online, you may find very quickly that there are some pretty crazy methods of pressure washing. You might find people using a pressure washer for anything from cutting watermelons, to cutting through a tool shed!
As entertaining as that can be to watch, you might not get very much educational value from it.
If you live in any part of the Greater Vancouver area like Maple Ridge, Langley, the Tri-Cities area, you know how much algae, mold lichen, and moss can grow in one season. A word of caution. Pressure washers are dangerous if not used correctly.
Follow the manufactures instructions and always wear safety glasses and PPE if possible.
Below you'll find these top 6 surfaces you can clean by using a pressure washer safely.
1. Pressure Washing Tips for Patios
Pressure washing a patio is quite easy to do, provided you are using the right tip and have some experience. If your patio is a concrete patio and it needs cleaning, try to clean off as much of the debris with a broom or a leaf blower as possible.
High pressure can send dirt and debris into the air and cause personal injury or damage to your home and windows. Try not to aim too close to the concrete or you will remove the sealant and have to reseal the concrete patio after.
2. Pressure Washing Tips for Decks
Sometimes decks are covered with vinyl or other waterproofing material. Be sure to check with the installers if it's safe to clean with a pressure washer. Pressure washing a covered deck is really quite simple. Try to aim away from the house to prevent the risk of causing damage.
If you are washing the house as well, make sure you cover all electrical on the walls, including light fixtures and cameras. You don't want to get electrocuted and you certainly don't want to start a fire.
3. Pressure Washing Tips for Driveways
You may have even seen a pressure washing company pushing a machine like they're pushing a lawnmower on the driveway. That's a flat surface cleaner. Those are ideal for cleaning flat surfaces thoroughly as they have rotating tips that evenly cleans a larger area.
If you decide to pick one up or rent one, be sure to learn how to use it first. Never leave it running in one spot or you'll find yourself with a nice cutout circle on your driveway. Never use it on a roof, it's just not a good idea.
To learn more about cleaning your roof you can "Top 5 Reasons To Get A Roof Cleaning".
5. Pressure Washing Tips for Retaining Walls
Of course retaining walls come in all shapes and sizes. One thing is for sure, they take a lot of abuse from the ground above. All the runoff from the lawns can leave a sizeable discolored painting of green and algae.
But don't be discouraged, if you have the time and lots of hose length than you can handle the task. If you decide to use a cleaner of some kind to downstream into the gun, then make sure you start from the bottom to the top.
That way the soap becomes more concentrated and prevents the possibility of streaking. Then rinse from the top to bottom.
6. Pressure Washing Tips for Vinyl Siding
Siding is very durable but it's not durable enough to withstand the pressure from a pressure washer. You must never wash underneath the siding or you will push water in behind the siding. You can even rip off the siding if you're not careful. Never use a red tip or a tip that's designed to spray straight water under pressure.
You will most certainly have adverse effects. The most common, and recommended, approach to washing your house is soft washing. Soft washing is a method in which using a special mix of biodegradable and safe chemicals is sprayed gently on your home and left to dwell for 5 to 10 mins.
Then it's rinsed off using a higher pressure than soap application was used, but just enough to guarantee the removal of the safe chemicals. If you've never done this before please reach out to your local Roof cleaning or pressure washing business and get an estimate.
So if you think you need to hire a professional to help you with your pressure washing needs, then feel free to contact ClearView Home Services for a no-obligation quote.
ClearView Home Services
10550 248 St #34
Maple Ridge, BC
V2W 0H9
(604) 944-9972
https://cvhomeservices.com/pressure-washing
https://www.google.com/maps?cid=16888362697555938950
https://local.google.com/place?id=16888362697555938950&use=posts&lpsid=2020331862079910726https://cvhomeservices.business.site/posts/2020331862079910726
House Washing Tips The Top 5 Questions Answered for Your Next House Washing Project
2020-07-23
House Washing Tips You Need To Know Before You Wash Your House.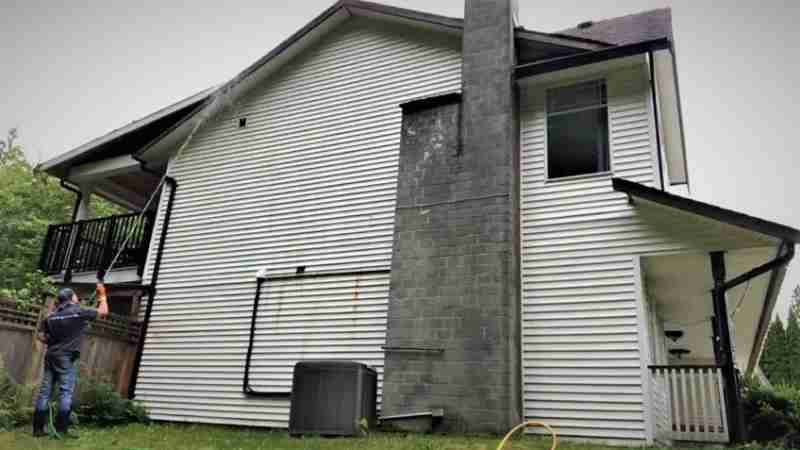 We've all done this. You take a walk around your house, look up, then look down. Do the old finger wipe trick. Take a look and examine the possibilities of how this happened so fast, and wonder, "if I just grab the hose and give it a quick bath it should be fine. It's just a bit dusty."
Suddenly, 3 or 4 (or 10) hours later in the heat, you've completed the task at hand and a job well done. Look at that. How remarkably shiny my siding looks! Filled with pride and accomplishment you head inside to boast to the family about how much money you just saved by doing it on your own. You get the kids to press pause on the controller and come outside because it's lesson time.
Except, who got schooled? The house looks worse than before! There are black streaks down the siding. Half of it's dried up black already and you can't even wipe it off! What the heck? Now you just got a couple of minutes worth of sighs, eye rolls, and hunchback kids slowly slumping back into the house full of confusion. Why dad, Why? (note: this is not a gender-specific role, but I'm a guy and can't relate otherwise.)
This is the time where you should probably just call a professional house washing company to take care of it, but just in case you aren't finished with your lesson, here are some commonly asked questions that we can help you answer.
House Washing Tips #1: What is the best way to wash a house?
Usually, dirt and grime, mold, and mildew can stay on your siding for a long period of time because siding does have some porous properties to it, as well as the embedded design. The design itself can be enough to allow the dirt and grime to stay firm and collect.
Step 1: We recommend a simple house wash solution, most professional house washing companies will mix up a batch of their own ingredients they have tested that work for them. You can buy a house wash solution at any hardware store, like Canadian Tire.
We recommend adding a bit of dawn dish soap to the mix to help the house wash mix stick better on the siding and help pull the dirt away.
Step 2: Starting with your soap tip, start from the bottom of the siding and slowly work your way up as high as you can go, hopefully, that's the top. If you can't reach the top, you may need a wand extension, or use a ladder to get higher up.
Step 3: Let the house wash mix dwell for around 5 to 15 minutes. Do not let it dry or you could have issues. If it starts to dry, add a bit more solution.
Step 4: Rinse from top to bottom until all house wash mix is off and your siding appears to have shiny appeal to it.
That's it! It's really that simple. There are other variables to consider as well like:
Covering electrical outlets and lights.
Using a 12v pressure spray pump instead of a pressure washer.
Making sure you read your pressure washer specs.
Doing your research! There are lots of tutorials you can find on YouTube.
Maybe just hiring a pro to do it like ClearView Home Services.
House Washing Tips #2: Is pressure washing or power washing my house a bad idea?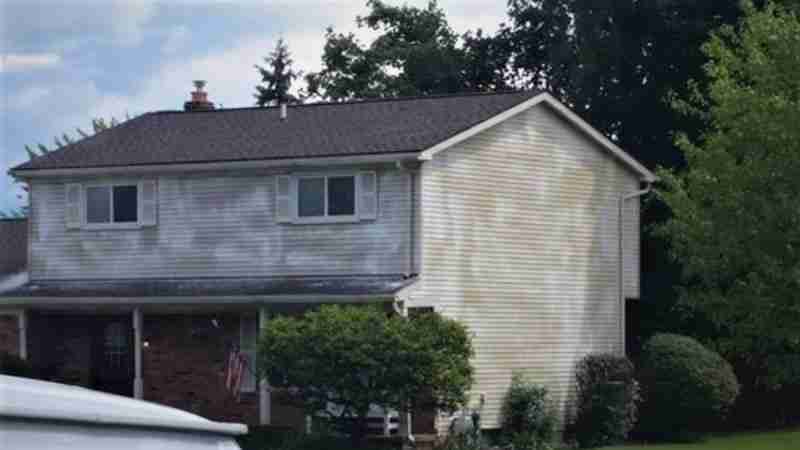 The first thing I can say is that using high pressure to wash your house is strongly discouraged. You will not only cause permanent damage, but you could also create flying debris that, if you're not protected, can harm you.
Pressure washing a house, especially vinyl siding, can lead to creating lines and stroked patterns in the vinyl that may be unrepairable. Like this:
It's not to say you can't use high pressure to wash your house, you just need to make sure you are using the right pressure, and the right tips, for your wand. Never use the 0-degree red tip to wash your house. It will not clean your house, even if you think it makes sense.
House Washing Tips #3: Will bleach ruin the siding of my house?
Actually, not like you think. In fact, most professional house washing companies use an industrial grade bleach for house washing and roof washing. There are even times you can get away using bleach from the store. Always mix with water so you have some barrier there, especially for hot days.
What you do not want to happen is to have bleach dry on your siding, as it can cause lasting color pigmentation.
Always have someone with you water down the area and bushes that you're cleaning close to. This will completely turn the solution into a saline type solution that's not harmful and will not kill the plants and greenery nearby.
Always wear eye protection and even ventilating masks to protect your skin and lungs.
Never mix bleach with other chemicals, ever, unless you've done your research or you're a professional that's trained to handle chemicals, like WHMIS.
Or…just hire us to do it.
House Washing Tips #4: Can you use dawn to wash your house?
Dawn by itself will not wash your house. The only way that will work is if you decide to scrub your entire house with a heavy-duty brush and pole. Dawn can work in conjunction with a store-bought house wash mix. It's a surfactant that will actually stick to the dirt to help pull it away from surfaces. That's why it works great for dishes.
House Washing Tips #5: What does Soft Washing a house mean?
Soft washing is simply using low pressure to wash a surface with the use of proper chemicals and mixes. It was invented to help protect homeowners from causing damage to their homes and roofs with high-pressure power washers.
If you ever come across a business that's offering to wash your house using machines like a surface cleaner, stay away! It's a horrible idea!
Summary
As it can be fun and enjoyable to spend your weekend cleaning up the home and spending the day outside, we encourage you to make sure you do your research before attempting any roof cleaning or house washing yourself. If you know what you're doing and can handle using different tips and different pressure types to wash your house then we are happy you can do that.
Otherwise, hire a professional company that's been in the industry awhile and can guarantee results that last for longer than 3 months.
Kevin Trout
ClearView Home Services
34-10550 248 St
Maple Ridge, BC
V2W 0H9
https://cvhomeservices.com/house-washing
https://www.google.com/maps?cid=16888362697555938950
https://local.google.com/place?id=16888362697555938950&use=posts&lpsid=2020331862079910726https://cvhomeservices.business.site/posts/2020331862079910726